Founder / Principle Teacher / Yoga Teacher Trainer
ERYT500+ with Yoga Alliance International - Level 2 with Yoga Australia
Eva Büman started practicing yoga in 2003 whilst studying a Bachelor of Applied Health Science (Naturopathy) in Melbourne. During the years of practice, yogic philosophy became Eva's lifestyle.
Whilst living in the Netherlands for 5 years, driven by a passion for health & wellbeing, Eva had her finger in many different pies professionally, including high pressure international management roles. Yoga has been what helped her stay focused & driven throughout.
Over 16+ years, she practiced & studied yoga all over the globe including France, California, New York, Amsterdam, India where she completed her 200 hr Hatha, Meditation & physiology teacher training with Swami Yogananda Maharaji (107yrs of age).
Upon returning to Melbourne, Eva received the highest level of internationally recognised Yoga Teacher qualifications. She has also undergone extensive training & initiations in the ancient art of Tradition Tibetan Energy Healing & Medicine Bowls (Sound Healing) with Tibetan Monk: The Venerable Lobsang Lama Tendar who has mentored Eva since 2012. She has completed all official certified training with Lama Tendar also. Eva is also initiated in Reiki Healing Level 1 & 2 with renowned Reiki Master Annie Slaughter.
Eva has worked & trained with International psychologists & major mental health groups across Australia assisting in the integration of Yoga/mindfulness as a clinical tool for psychologists. She has taken part in conferences for ACT, speaking about the effects of yoga practice for people suffering PTSD & other mental disturbances such as anxiety & depression. She currently works in conjunction with many psychologists & clients referred by local psychologists. Eva passionately works to rewire neurology.
Eva's clients include Military groups & Veterans, Mackillop Family Services, Head Space (Orygen), Mindd Australia, Tennis Australia (Australian Open Coaches Conference), VicRoads, various CEO's, Corporate Coaches, The Centre for Sexual Violence & Victims of Sexual Assault and many more.
Coming from a strong fitness background in state & national level competitive sports, Eva delivers a fun & dynamic practice. She backs up her moves with steady scientifically researched benefits to your body & mind (of which she considers to be intimately connected). She balances the seriousness and the fun of yogasana & has a well rounded ability to provide a broad spectrum of options available to EVERYONE!
Certificates, Teachers & Training:
Simon Borg-Olivier(Yoga/Pranayama), Meghan Currie, Swami Yoganandya Maharaji (200hr Yoga, Pranayama & Meditation-India), Dominique Salerno (350hr Advanced Diploma Of Yoga Teaching) Sophie Le Fevre (Mentoring) Duncan Peak, Yogi Dinesh (india:Hatha Yoga, Meditation, Physiology) Geoff Brookes (Ananta Yoga, Byron Bay) , Venerable Lobsang Lama Tendar (Tibetan Medicine Bowl Healing workshop & full healers Certificate Course & initiation), Annie Slaughter (Reiki Master), David Young (Meditation/Mindfulness Australia), Robyn D Walser PHD (ACT Mindfulness/ trauma therapy).
Yoga Instructor / Studio Manager
Niamh first started yoga in her 20's because people kept talking about how good it is for you! Curios to know more, Niamh went to find out and hasn't looked back. For Niamh, yoga has helped her to see herself and the world through a kinder more compassionate lens. She continues to be blown away by ancient wisdom and the scientific research that now exists to marry the two worlds together in our modern age. Creating a safe and nurturing space, Niamh's classes are mindful and playful and focus on leaning into your internal world, fine-tuning your understanding of yourself, using mindful movement and steady breath. She is driven by a passion to bring more playfulness and joy to the stresses of living in the modern world.
When not teaching, Niamh can be found at Saltwater Yoga Studios as Studio Manager. Having worked in many operational roles internationally, Niamh's other passion is Customer Experience. She is here to continue to ensure that our Saltwater Community are at the very heart of everything we do. When not at Saltwater Studios, Niamh can usually be found climbing a tree, searching for treasures and playing with diggers - with her toddler, Art!
Certificates, Teachers & Training:
200hr Yoga Teacher Training - Byron Yoga Centre
50hr Yin Yoga Teacher Training - Leonie Lockwood Yoga
Currently completing 350hr Advanced Yoga Teacher Training with Eva Büman, Founder & Principle teacher Saltwater Yoga Studios & Postnatal Yoga training with Bliss Baby Yoga.
Yoga Instructor, Prenatal & Kids Yoga Instructor
Yola Barbounis is a local resident to Williamstown with 3 children. She is a conscientious and dedicated yogi who has been practicing for the past 15 years. Initially, drawn to Yoga for the physical and health benefits, the later years become more evident about an inner practice of understanding herself. This journey of self and realisation helped synchronise an inner self with her outer self.
Yola has been so inspired by various teachers over the years, she hopes to touch and inspire her students in the same way. She will guide students through a nurturing, fluid, steady practice that will build strength for a stronger practice. She encourages students to stick to a regular practice, only then you will notice the physical and mental benefits, like increased vitality and energy, a clear and positive mindset, creating space for new perspectives on life – the effects can be transformational!
Certificates, Teachers & Training:
Advanced Diploma of Yoga Teaching in 2015, Australian Yoga Academy
Yoga for Kids & Families Teacher Training (27 hours), Rainbow Kids Yoga
Certificate in Vinyasa Teaching (Jenni Morrison-Jack), Australian Yoga Academy
Yin Yoga Teacher Training with Hugh Lee (50hrs)
Advanced Yin Yoga Teacher Training with Hugh Lee & Becky Andrews (24hrs)

Meditation & Yin Yoga Teacher
Ross has been practising Mindfulness & Meditation since 1994, to alleviate stress and chronic pain after suffering severe permanent injuries in a training accident early on his career with the Australian Army. He found using a mind and body approach to health and healing, had a major positive effect on his rehabilitation and overall wellbeing. Ross managed to return to full duty after he was told he would never walk properly again, and was able to complete a successful 30 year career in the Australian Army. Ross attributes his successful rehabilitation to maintaining a positive attitude, and incorporating wellness modalities into his daily life. In his last 6 years of service, Ross`s portfolio involved the leadership, management and mentoring of personnel within his unit. His key focus here was soldier welfare, including the rehabilitation management of injured soldiers, as well as supporting their families.
Ross practices Yoga and Mindfulness daily to manage his health and wellness, and encourages others to do so. He believes it is essential to incorporate a wellness modality into your daily life, to counteract the stresses of modern day living as well as those who are managing physical and mental health issues. Ross believes a combination of Yoga and Mindfulness practice can provide an excellent balance in life to enhance your health and wellness, reduce stress & build resilience.
Ross`s mission is to introduce Yin Yoga, Mindfulness and Yoga Nidra programs that are fully accessible to everyone, at any age with any injury background.
Certificates, Teachers & Training:
Ross is a registered Yoga Instructor, a Meditation & Mindfulness Teacher as well as an iRest Yoga Nidra Teacher.
200 Hour Yoga Teacher Training - VETOGA USA Veteran Yoga
50 Hour Yin Yoga Teacher Training - Bernie Clarke Canada
50 Hour Yin Yoga Teacher Training - Leonie Lockwood
80 Hour Meditation Teacher Training - Melbourne Meditation Centre
Member of Meditation Australia
1 Year of Mindfulness Training - Dr Chris Walsh Mindfulness.org.au
32.5 Hour iRest Yoga Nidra Level 1 Teacher - iRest Institute
Yoga Instructor
Encouraged to practice meditation as a child, Amy found yoga at 19 years of age and was immediately enamored. Coming from a health, fitness and performing arts background, it was the bodymindspirit 'union' that kept drawing her back to the practice. Similar to her experiences with meditation, yoga consistently and gently brought her to understand her inner being and true self. Working across the East Coast and Top End of Australia, Northern Europe and London, meditation and yoga became Amy's stability and constant.
After 15 years practicing yoga, she became chronically ill and unable to practice Hatha or Vinyasa Yoga for 5+ years. It was during this darkest period of her life that she found the healing practices of Yin, Restorative and Yoga Nidra that have now become her passion. Stepping out of senior roles in corporate finance to rebuild her wellbeing, Amy came to deeply appreciate the impact and the price of modern day living. This inspired her studies of yoga, the energetic body and impact on the brain and physical health. Inspired by Somatics, HeartMath, QiGong, TaiChi and Energy Medicine, she has founded a wellbeing project to bring ancient practices underpinned by modern science into workplaces.
Her teaching style is inclusive and nurturing which evolves from her compassion centred philosophy. Weaving ancient wisdom and modern science into her classes, Amy seeks to create space for healing whether teachingMeditation, Yin, Restorative, Flow or Yoga Nidra.

Certificates, Teachers & Training

Lianne Metcalf (250hr Vinyasa & Somachi – Melbourne / India)
Sarah Owen (50hr Yin and Mindfulness – Byron Bay), Jo Phee (65hr YinYang & Yoga Nidra of Bihar School), Leonie Lockwood (110hr Yin Yoga - Melbourne), Anahata Giri (Graduate Certificate - Prenatal Yoga), MeiLai Swan (Embodied Flow Masterclasses), Mysan Sidbo (Advanced Yin Masterclass), Lee Heron (Myofascial Yin Masterclass), Christopher Wallis (10hr Chakras Illuminated), Jacinta Percy (Soundweaving Level 1 Course), HeartMath Certified Coach & Mentor, Diploma of Performing Arts & Music, Graduate Certificate Risk Management for Arts Workers, Certificate IV Financial Services, Executive MBA, Australian Institute of Company Directors Course
Yoga Instructor
Olivia first started practicing yoga to reduce the stresses of completing her university degree and working a full-time job. Her body was tense, her mind was working in overtime, and she constantly felt physically and mentally drained. Within the first week of practicing yoga she noticed a major shift. She learned how to relax not only on her mat but also in the world around her. The teachings of yoga guided her in overcoming stress, fatigue, muscle aches and pains. Little did she know that the wonderful practice of yoga would also change her life forever and lead her to sharing this gift with you!
When participating in her class she will lead you through a sequence that promotes healing and growth in both the body and mind. She invites you to release what is no longer serving you and create space for love, awareness, growth, compassion and acceptance. She will teach you how to release tension held in the body, how to calm the mind and how to grow a deeper connection with yourself.
Olivia truly believes that you are the real teacher in your life. You are already enough and you are completely whole. She is simply here to guide you down a path that allows you to accept yourself fully.
Certificates, Teachers & Training
Hatha and Vinyasa Yoga Teacher Training (200 hrs) Samma Karuna with Julie Bertrand, Doni Islamov and Vanessa Burger.
Reiki Healing Levels 1 & 2 with Julie Bertrand (30 hrs).
Participated in workshops and trainings lead by wonderful instructors such as Alexa Nehter (Fascia & Myofascial Meridians), Mary Susan Stults (Backbends & Inversions), Dr. Natasja Fox (TMC), among many other inspirations.
Completed the Vedic Meditation Course with Laura Poole and now practices twice daily. "
Yoga Instructor
After being a regular yoga practitioner for several years in Argentina and in Thailand, Estefi became a certified yoga instructor in 2010. Since that moment, she has never stopped training and learning about yoga practice and philosophy.
While living almost four years in Thailand and three years in India, Estefi had the chance to train with some of the best teachers from around the world and share her teachings with many students from different backgrounds. She has also trained and mentored prospective yoga teachers from different countries while being part of teacher training courses in Dharamshala, India.
With a background in education, her classes are well planned and engaging. During her classes, Estefi integrates aspects of mindfulness as well as various styles of yoga into the teaching of vinyasa flow classes. Students will find her classes challenging and enjoyable, with a focus on learning proper technique and postural alignment, via clear guidance and gentle adjustments.
When she is not upside down, she enjoys spending time with her family, reading at the beach and travelling.
Certificates, Teachers & Training
200hr - Yoga Teacher Training - Yoga Elements Studio
200hr Yoga Teacher Training - Siddhi Yoga, India.
120 hr - Applied Anatomy & Physiology of Yoga - Simon Borg-Olivier, Yoga Synergy
Kids Yoga Teacher - Rainbow Kids Yoga
Diploma in Prenatal and Postnatal Yoga - International Yoga Teachers Association
Restorative Yoga Training - Sarasvati Sally Dawson
Yoga Instructor
Sarah's love of yoga started more than 18 years ago when she moved from the south of France to Australia. As a dedicated yoga practitioner, Sarah is forever a student curious to learn and explore. As a teacher, she likes to guide students to practice with safe alignments that feels good for all bodies, with a strong connection to the breath, inner self and explores themes that you will be able to take off the mat and integrate into your everyday life. Her classes are flowing, integrating elements of mindfulness, challenging and restorative at the same time, suitable for all levels.

Certificates, Teachers & Training
350hr - Australian Yoga Academy
50hr Meditation Teaching Training with Phoebe Kiddo - Australian Yoga Academy
50hrs Yin Teacher Training with Karina Smith - Australian Yoga Academy
Adjustment workshop with Dominique Salerno - Australian Yoga Academy
Certificate in Vinyasa teaching - Nicki Hanley and Dominique Salerno - Australian Yoga Academy
Currently studying - Rod Stryker (Online course) Tantra Hatha
Currently studying - Sian Pascal Chakra workshop for teachers
Currently studying - Rod Stryker – Parayoga Koshas training 5 days – The Practice Bali

Workshops/masterclasses with: Patrick Beach, Les Leventhal, Octavio Salvado, Leslie Kaminoff, Elena Brower, Tara Judell.
Yoga Instructor
Kelly Davies first came to Yoga in 2002 after a trip to India where she discovered the books of BKS Iyengar. She found that practising Yoga gave her the stability that she needed in her life at that time, and helped her to deal with the ups and downs of everyday living. Her journey deeper into Yoga led her to teach basic Yoga practices to the children at her son's school, along with song, dance and art. Seeing how this opened up the quieter children, Kelly decided to train as a Yoga teacher and began her studies in the tradition of Krishnamacharya, the Grandfather of Modern Yoga.
Since completing her teacher training in 2004, Kelly has continued studying in India with the Desikachar family and at the Krishnamacharya Yoga Mandiram in Chennai. She has taught as a senior Teacher, Therapist and Teacher-Trainer in Melbourne for more than 10 years in Melbourne before joining with Scott to form Trikaya Yoga. Most recently, Kelly worked as the lead teacher, therapist and teacher-trainer for Rebel Monk yoga studio in Hawthorn, Melbourne.
Kelly's passion for Yoga, art and music continues to this day, as does her fondness of travel and adventure. She enjoys the continuing evolution of her practice and teaching in many directions, with a particular focus on the use of sound in mantra and chanting, and her ongoing exploration of the energetic systems of the body.
Kelly is a Registered Senior Teacher with Yoga Australia.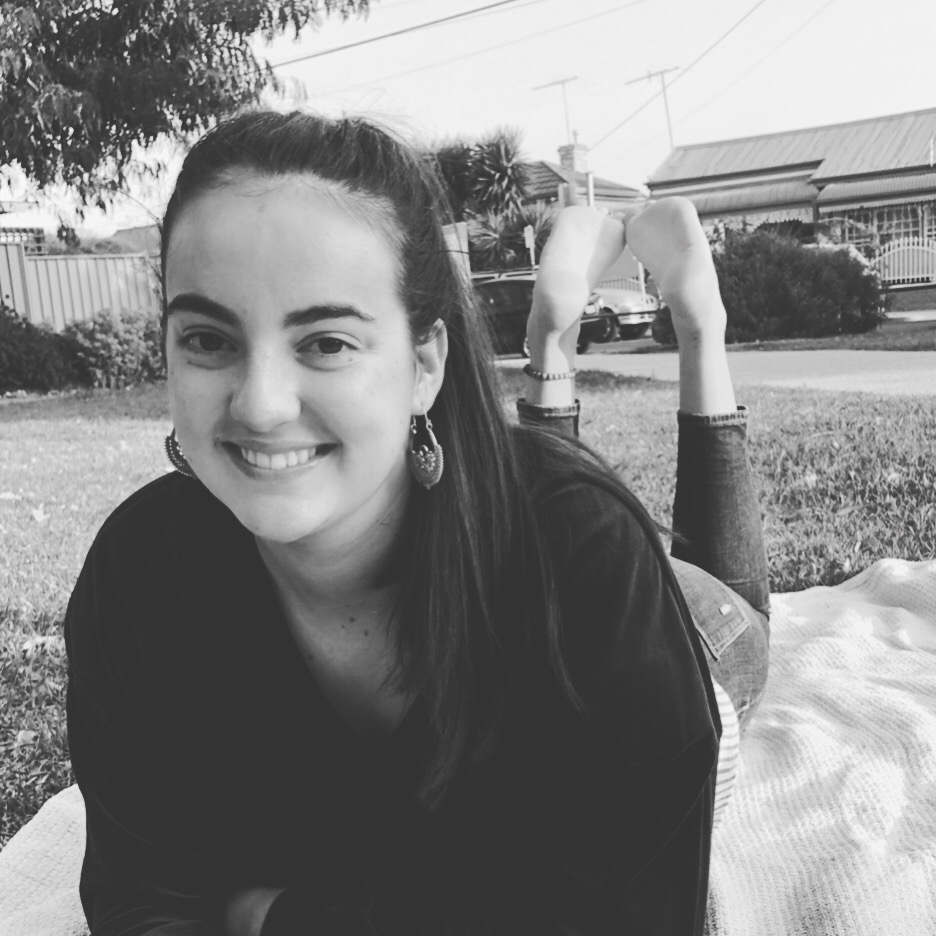 Yoga Instructor
Camille began her yoga practice as a teen to create space from her busy mind during periods of anxiety. Over the years she became aware of the empowering impact yoga had towards her mental health. Camille has since been committed to incorporating the powerful and soothing practice into each day.
Camille's practice is curious and mindful with a particular focus on internal awareness and the interior sensations of the body. Each class with Camille is an opportunity to use breath, movement and space from the mind to settle back into your body, reconnecting with your essence, while soaking in moments of pleasure, compassion, contentment and flow. Camille's journey through yoga has brought her to a deeply respectful relationship towards her mind and body. Camille strives to support others to find this same empowering sense of compassion and respect towards themselves. Camille's practice is gentle and accessible, with attention on each individual's experience. Camille has been practicing at Saltwater since 2016. Camille has worked as a Veterinary Nurse for the past six years and has a passion for animals. She enjoys mindful beach walks with her dog, Ronnie.

Certificates, Teachers & Training
350hour Yoga Teacher Training - Australian Yoga Academy
150Hours Post-Graduate Advanced Yoga Teacher Training - Saltwater Yoga Studios with Principal Teacher Eva Büman. (Currently)
Yoga Instructor (Covers)
After 20+ years of attending yoga classes, Dawn found her ever-growing passion and interest in body, mind and spirit had drawn her towards a more in-depth study of Yoga and she gave up the hectic corporate life and followed her passion and became a fully qualified Yoga teacher. She attained her 500YTT as well as Level 1 & 2 and a post graduated in Yin Yoga teaching. Always the student Dawn continues studying by attending regular classes and teacher trainings constantly increasing her knowledge and experience so that she may share it with others.
Sharing her passion for all aspects of Yoga, Dawn's classes are about you and how Yoga feels for you. Guiding you through a practice combining breath, movement or stillness to bring a sense of wellbeing, self-awareness and most of all joy. Her aim is to help people explore their own journey with Yoga to find a state of balance both mentally & physically on and off the mat. You will often find Dawn amongst nature & the great outdoors, especially around the beautiful Surf Coast, hanging out with her partner & 3 legged wonderdog Max.
Certificates, Teachers & Training
500hr - Yoga Teacher Training – VIYETT
200Hrs Yin Yoga & post graduate - Yin Yoga – Mysan Sidbo
Level 1 & 2 – Jennifer Crezcenso – 80 Hrs
Trauma Informed & Community Yoga – 60hrs
Simon Park – Prana flow intensive – 40 hrs
Zen of touch – Gwynn Williams – 20 hrs
Art of Sequencing – Ella Cojocaru - 30 hrs
Yin Yoga Masters Weekend – Mysan 20 hrs
Embodying the Flow – Simon Park - 40hrs
Essential Tools for Teacher Training – Simon Park - 40 Hrs